System Pages
You can manage the content not only of different web pages, such as content pages, product list and product pages. System pages are the standard pages that exist in Sana by default.
In Sana Admin click: Web pages > System pages.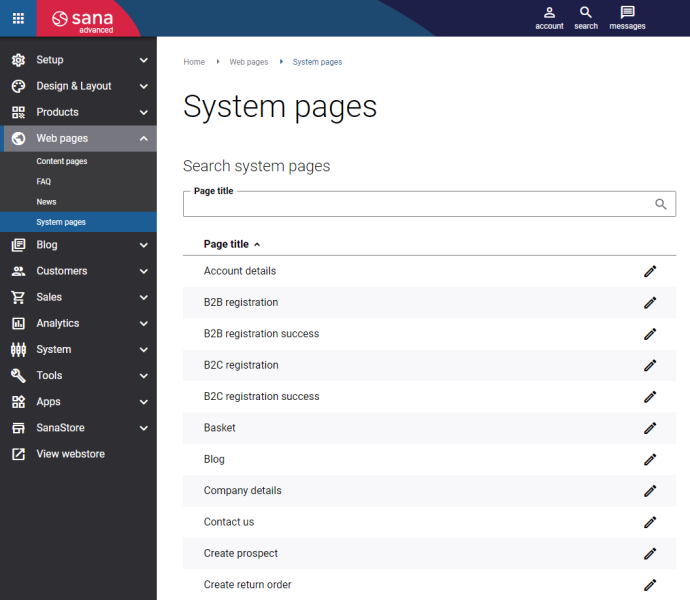 On the System pages page, you can see all available system pages, for example Basket, Checkout, Login, Registration, all sales document pages and many others. To find a system page quickly and easily, you can search for it by title and use pagination.
Below you can see a list of all system pages available in Sana.
NOTE

With almost every Sana Commerce Cloud release we give you the ability to edit more and more system pages. For those system pages that are not yet completely editable, you can only add some content to their header and footer.
Edit Content of System Pages
Some system pages are editable, you can change these pages the way you need if you want to look them different from the standard ones. Also, there are several content elements which are specific for a system page. It means you can add a particular content element only to a particular system page. For example, the Login form content element is available as a separate content element only on the Login and Login (closed store) pages. It means you cannot add the Login form content element to any other page.
Also, you can add and remove various content elements on the system page as well as use the content management system of Sana with the page layouts, row and column settings to create high quality and impressive design for the page.
Using content elements, you can enrich system pages of your Sana webstore with the original, creative and useful content.
You should not overload system pages with content, but you can add some useful information there, for example related to security, payment and delivery services you are using.
See an example of the fully editable Contact us system page with content elements in the Sana webstore.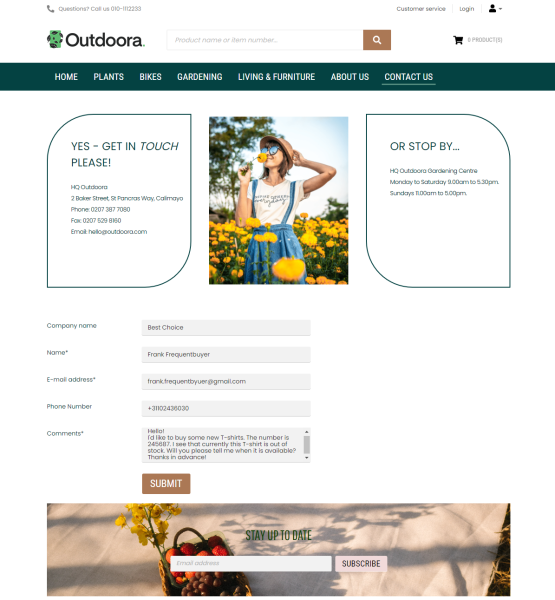 See an example of the Company details system page where you can add content elements to the header and footer in the Sana webstore.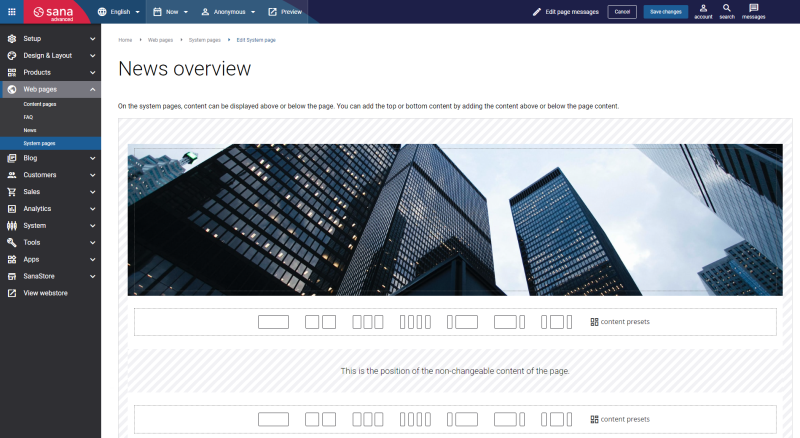 Preview
When you add, edit or remove the content elements on the system page, you can also preview a page in your webstore. To see how the system page will look like when you are done, click Preview in the header of Sana Admin.
Some system pages, for example a Basket page, look differently in the webstore depending on the customer type. Using Preview settings, you can see how a page is shown in the webstore for different customer types.
Also, if customer segments for different shop account types are applied to the content on a page, they will be considered when you preview a page.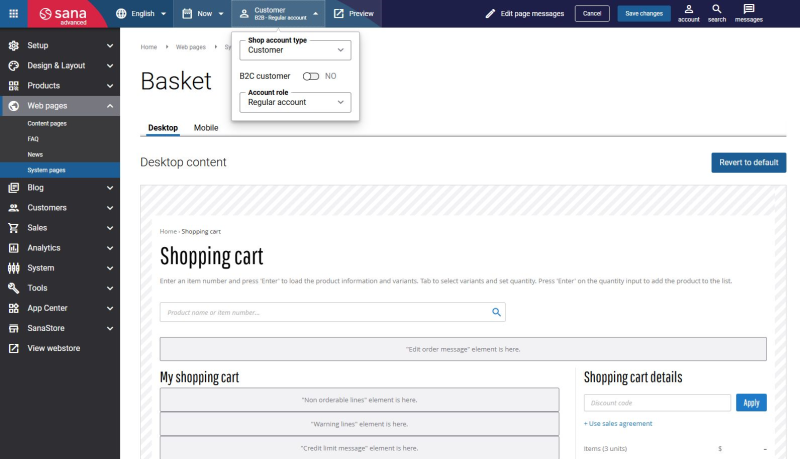 For more information, see Page Preview.
Translate Content Elements on a System Page
Sana is a multi-lingual e-commerce solution. By default, a Sana webstore is available in English, but we also deliver the language packs which can be installed with a single button click from Sana Apps.
The Sana language packs contain the default webstore interface texts, error and validation messages and system e-mails in the language of your choice. The language packs also allow you to translate your webstore content to different languages.
The translations of the default texts of the system pages are also available in the language packs. But if you add some content elements to the system pages, you can also translate them to other languages if it is possible.
Find the system page that you want to translate and click Edit

. Then select the necessary language from the list in the header of Sana Admin.
When you edit any content element on the system page in a language other than the default language, the content element is presented in two columns. The first column holds the content element in the default language, and it is not editable, while in the second column you can provide translation for the content element.